Stock Holding Philosophy
We are known around the world as a stockist of special and critical service valves & actuators. We keep large stocks of special valves and spares for abrasive and high & low temperature configurations for severe and critical service applications. Fundamental to our strategy is a continued philosophy towards stock holding.  Global Supply Line (GSL) recognises the importance of fast and reliable delivery times.  By maintaining large stocks over an ever widening product range the company is less dependent on "Factory Lead Times" with an increasing percentage of orders being satisfied from stock.  The company constantly monitors stock movements and trends, to ensure that our stocks are maintained at suitable levels. Our fast track service and large stock holding ensures when we get a customer we keep a customer.
Within the higher quality arena, GSL has the most efficient and competitive supply procurement chain in the business. We understand valves and we know the strengths and weaknesses of all 'levels' of manufacturers. We all work with your risk management department to explain when, where and why a price variance is justified for a higher specification of valve.
Global Supply Line has an advantage in being a privately owned company.  If we see a particular need, then we will immediately set up a new stock line.  Many valves are slow moving and other suppliers consider them too high risk but we will go ahead and stock them as a service to our clients.
Our stock holding of valves includes 6NB to 900NB (1/2" to 36") sizes in Carbon, Stainless, Duplex, Alloys, Iron and Bronze body materials. We stock valves in numerous end connections including screwed BSP, NPT and flanged in RTJ, FF and RF as well as buttweld and socketweld. We keep large stocks of ANSI valves with "undrilled" flanges allowing us to drill to various drillings including: –
ASME 150 to 2500 Class
BS/AS2129 Table E to H (BS10)
AS4087 PN16 to PN35
AS4331 (ISO 75005-1) PN2.5 to PN420
BS4504 PN6 to PN100
DIN/EN 1092-1 PN2.5 to PN400
JIS B2220 5K to 63K
Fast track CNC Manufacturing Special/ Modified Valves and Flanges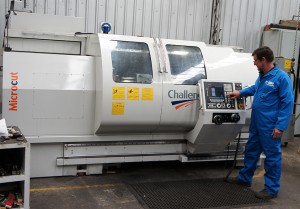 We keep large stock of Shell & Mobil approved flanges and fittings in larger sizes and higher classes.  However, we also stock unmachined not forged forgings (not bar) in LF2, A105, F51 (Norsok M650 approved), 316, 316L and 4130 (API6A & API17D certified) enabling us to in-house fast track and manufacture ASME  flanges to 600NB up to ANSI 2500 class and API 15,000 PSI as well as wellhead components.  In addition, we can custom manufacture valves in Australian Pipeline Valve in all materials including exotic grades like Monel, Super Duplex, Titanium, Alloy 20 etc.
We keep large stocks of 300 Class to 2500 Class valves in unmachined faces to allow us to machine to RF or RTJ. With our own in-house engineering division and full test facilities we can supply in very quick delivery.  We also stock un-drilled & flanged valves to facilitate any flange dimension within the pressure class range. Modifications to Grayloc®, socketweld, buttweld, pup ends and special face to face dimensions can also be performed to ex-stock valves by our engineering division allowing us to supply valves to any specification in days, not weeks!
What else makes GSL unique?
In-house pressure testing facility and valve engineering facility
Officially approved to service and re-engineer  APV, JC, Starline, Sferova, Biffi, Torqturn, Air Torque and Actreg
In-house valve automation facility
After sales service and availability of spare parts
In house blast & paint facility
Contract management of project valve orders
Management of TPI and NDT activities
More examples of our stock range diversity and superiority:-

In ball, gate, globe, check and strainer up to 2500 class we stock grade LCC specified dual conforming to WCC, LCB and WCB. This provides a wider pressure temperature range and for buttweld conversion, WCC and LCC is higher quality due to its superior density (LCC is better again than WCC).
Quarter turn valves are stocked with ISO mount pads and lock devices.
We stock valves ready to ship with gearboxes in sizes where others stock hand wheel or lever.
A full range of gearboxes and pneumatic actuators are kept ex stock.
For quick despatch, we stock stainless gate, globe and valves with all  PTFE  seals (no elastomers) as well as fire safe specification with graphite seals.
APV and JC Alloy ball, gate, globe and check valves are also stocked with special body gaskets which have a superior Spirometric triple barrier seal incorporating a firesafe 316 spiral wound graphite filled gasket which also has an integral PTFE inner seal. The 3 material types ensure a wide temperature range and a superior seal. In the case of floating ball valves this also removes the need for a secondary internal Viton or Buna o-ring which has limited chemical resistance and a much lower temperature range compared to PTFE.
Full stellite trim and 316 + stellite trim stocked in most gate, globe and check valves.
Special face to face dimension options that no one else stocks. (Short pattern, long pattern and regular pattern in ball, plug and pressure seal gate, globe & check).
Heavier schedule buttweld options relative to class for special applications.
Investment lost wax process castings (and superior resin sand cast in higher classes).
Full professional serialised detailed drawings with correct bill of materials "as built" for that order.
As well as body test and pressure material certificates for pressure retained parts to EN10204.3.1 most valves stocked also have certification on major trim components.
All body and trim components are heat treated, with the required method being duly noted on the certificate.
The majority of forged gate, globe & check valves are available with integral flanges in all classes. Where weld on flanges are used they are full penetration v-prep welded and D.P tested.
All our cast gate, globe & check have stainless steel back seating on stem. Our forged gate, globe & check also have integral or stainless overlay back seating on stem.
We stock all accessories like deadman levers, declutchable gearboxes, Italian made actuator adaptors and brackets, 316SS/17-4PH ball valve levers, etc.
Ball Valve Quality Points of Difference

Our specifications on our stock holdings surpass market requirements.
LF2 Trunnion ball valves are available fitted with Elast-o-lion 985 A.E.D. o-rings which provide a wider temperature range (down to -45ºC) but are also methanol resistant and have superior resistance to ethanol and sour oil and gas for A105N Starline, JC, Sferova and APV our standard is Viton AED FR58/90 or Norsok M710 certified (and Shell MESC approved) Hutchinson Equivalent.
Ball valves are stocked with CPTFE, graphite, PTFE, PEEK and metal to metal seats. Also in JC, Starline, and Australian Pipeline Valve we hold a full range of spares in stock including spare seats in graphite, bronze filled PTFE, carbon + graphite PTFE, Tefzel, PEEK, etc. We also stock spare seals, packings, and body gaskets enabling us to reconfigure valves to suit any requirement. (We are fully approved by our manufacturers to do factory acceptance testing).
We stock a full range of APV (Australian Pipeline Valve), JC and Starline 316SS levers, locking devices, stem extensions and brackets.
JC, Starline, Sferova and APV hold certificates and approvals such as SIL3, AGA approval, API607 6th edition (ISO 10497) firesafe certification, API licenses as well as conforming and to standards such as API6A, API6D, API608, ANSI B16, AS4629 and AS4617.
Alloy Steel floating and trunnion ball valves are often specified with PTFE (PFA) coated silicon o-rings (or solid PTFE Chevron/ LIP o-rings) in lieu of conventional viton o-rings. This  provides a lower and higher temperature range as well as the much wider chemical and temperature resistance spectrum provided by using PTFE in lieu and the removal of viton. In floating ball, by increasing the stem packing area the viton o-ring is no longer required in smaller sizes, hence in CF8M/316 firesafe and non firesafe foating ball we also stock elastomer free valves.
Firesafe certified with 3rd party Lloyds/DNV witness on floating and trunnion APV/ Sferova/ Starline/ JC ball valves and APV with coverage of all sizes and classes as required by API607 5th and 6th edition and API6FA.
We stock all accessories like deadman levers, multi-turn, quarter turn and APV declutchable gearboxes, Italian made actuator adaptors and brackets, 316SS/17-4PH ball valve levers, etc.
Starline, JC, Sferova and APV trunnion mounted ball valves are available ex-stock with F51 (31803), F6A, 17-4PH or XM-19 (Nitronic 50) stem, trunnion, seat retainer and ball in larger sizes and in higher classes.  Other manufacturers use 316 or worse CF8M even in much larger sizes.  F51, 17-4PH, 4130+ENP, F60+ENP and F6A/410 is stronger than 316 and is required to handle extra torque, especially if particulates become entrapped in the seat area or if the ball is left in one position for a long period of time, the high quality Italian made Rotork® Gear boxes (standard on JC, Starline and Sferova) and Diamond Gear® (standard on APV) will still open the valve without risking damage to the stem and without the need to grease the seats (which can then attract more debris to the seat, risking seat damage).  With the trend towards Devlon and hard PEEK® seat inserts due to their hard wearing (and higher temperature) capabilities, the torque of trunnion ball valves become a significant factor in the higher pressure classes especially when fitting an actuator.
The other advantage of F51, 17-4PH, F6A/410 and XM-19 stem and trunnions they are around is 50% harder than 316 and are therefore more scratch resistant.  The same applies to F6 (410 series) and F51 stainless ball.  Since a ball is highly polished there is no corrosion disadvantage with F6/410 compared to 316 in the service types encountered by an LF2 or A105 valve.  F6 is also lower in cost and is increasingly being specified in lieu of 316. Also 316 is subject to H2S embritlement whereas 17-4, 410, F6A, etc. is not. Partnering F51, 17-4PH, in XM-19 or F6 with PEEK provides a strong hard wearing valve.
Stocking high strength stem and lower torque seat materials is an advantage when fitting an actuator and GSL Engineering are authorised to automate and perform factory acceptance testing for all the brands we stock.  Also with many of the brands we stock the lower trunnion is also available in ENP or full stainless.  Other manufacturers rarely do this as smaller sizes up to 250NB (10") (depending on the class) have an external lower flange which is integral with the lower trunnion so supplying the entire assembly in full stainless steel would be cost prohibitive.  Also 316SS sealant injection fittings and zinc plated bolts are standard for all valves stocked. Where you would throw away another valve, Starline, JC, Sferova and APV valves are built for life.
All seat insert materials used (PEEK, Delrin, Devlon-V, POM, RPTFE) are all Shell MESC 77 approved and Norsok M-710 certified for sour service.
We also stock trunnion ball valves with A105 or LF2 or F52 + ENP .003″ (76 micron) ball/trunnion. APV, Sferova, JC & Starline use high phosphorus EN plating that has a Brinell hardness of 500 minimum as standard (further hardening can be performed up to 900BHN). 316 Stainless steel is very soft and has no minimum ASTM hardness level, An .003″ EN plated ball resists scratches much easier than 316SS. Also it is smoother and provides a better seal in higher classes.  The Corrosion performance of EN plating is proportional to the plating thickness.  3 mil plating provides an excellent barrier protecting the base material (A105N, A350, LF2 or F52) in acidic PH conditions as low as 4. ENP 25 micron (.001″) should be limited to sweet service and neutral PH process.
Our JC, Sferova, APV and Starline stock profile also includes full offshore specification floating and trunnion ball valves with all 316SS external fitments including lever, top works, gearbox handwheel and stem, sealant fittings bleeds and drains.  In addition, bolting is Xylan or zinc plated as standard in all brands stocked and o-rings are in AED FR58/90 (or Norsok M-710 certified Hutchinsons equivalent) or viton GLT-AED or elast-o-lion 985.
Anti Corrosive film on internals and gasket face.
Stainless and zinc plated or full 316SS top works components.
API608/API6D/ANSI B16 floating ball valves with high tensile bolting even in stainless body, not Taiwanese light wall valves with light duty bolts.
Our F51 stock has corrosion test certification, Duplex or B8M plus Xylan coated bolts, stainless steel levers etc.
ENP trim on ball valves 0.003″ (0.76mm) not 0.001″ like many other brands. In addition it is hardened to minimum 500VHN/530 BHN.  The A105/LF2 gland and trunnion is also specified as ENP or F51/F6A, unlike many other brands. Looking for 20NB to 100NB (3/4″ to 4″), 150 to 2500 class, small bore, trunnion mounted? We have Shell approved Starline and Australian Pipeline Valve in stock! No one else in the world stocks very small and low pressure class trunnions. Looking for compact/short pattern, full port, 150NB to 400nb (6″ to 16″) 150 to 600 class trunnion ball valves? APV can do it! Others can't!
Other examples of our stock holding quality points of difference include: –
Anti corrosive film on internals and gasket face
Selected stainless and zinc plated top works components.
Stainless external components such as sealant injection nipples on premium brand ball valves.
Equilibrated 2-stage disc on large size globe valves as well as hammer blow hand wheels.
API600 heavy wall in stainless steel gate valves.
API608/API6D/ANSI B16 floating ball valves with high tensile bolting even in stainless body, not Taiwanese light wall valves with light duty bolts.
Our F51 stock has corrosion test certification, Duplex or B8m plus Xylan coated bolts, stainless steel levers, etc.
Our metal seated lubricated plug valves are now stocked with hard F6A/410 plug and stem in most sizes. F6A/410 stainless steel is 50% harder than 316 stainless steel and also has a much higher tensile strength. In addition to being 410 stainless, the plug, stem and lower diaphragm/plate is also nitrided in most sizes. This guarantees long life for oil & gas service providing good resistance to erosion and corrosion but also makes these valves suitable for dirty and mildly abrasive service applications.
ENP trim on ball valves is .003″ (0.76mm) not .001″ like many brands.  In addition it is hardened to 500 BHN minimum (530VHN). The A105/ LF2 gland and trunnion is also specified as ENP, unlike many other brands.
Full body, seat & back seat, high & low pressure tests (confirmed on all certificates). (For API598 it is essential to do H.P. seat test but all GSL supplied valves include it).
Our specifications always surpass market requirements. For example features like stainless or galvanised body bolts, packing bolts and body fittings are frequently specified even when it is not the industry standard.
Custom Fast Track Manufacturing: –
We stock sub-assembled components in our own facility and at our various manufacturer's facilities, that can be custom manufactured with required end connections, trim, bonnet design and operator in a very short lead time with the current certificate and then air-shipped direct to the required location.
The sub-assembled valve components are kept in Australia, Korea, Italy and China on behalf of Global Supply Line by our manufacturers.  Our strong relationship with these manufacturers allows us to have them manufactured as required by our clients, not only in short delivery but also with all the required quality assurance testing.  This enables us to supply to our clients exacting requirements,  even down to the preferred brand and model of o-ring. For example (click here) for our relationship with Australian Pipeline Valve and Factory Fresh Program.
Examples of stock holding certification and accreditation points of difference: –
In addition to 50049-3.1 (EN10204-3.1) certification requirements, valves in stock are held with a higher than required level of certification. For example we supply full certification on major trim components as well as the mandatory pressure containing part. Brands stocked have major approvals and certificates like SIL3, AGA, Shell TAT & SIPM, Fugitive emissions prototype (TAT), Lloyds LNG cryogenic approval, API6D, API6A etc. Other examples include:
Dye penetrant test on all welded bonnets and all beveled buttweld ends on cast valves.
Corrosion test, ultrasonic test (& dye penetrant on castings) on F51 Duplex.
Certification on major trim components.
Corrosion allowance 2.0 to 3.0 mm.
Also go to the quality section of the Australian Pipeline Valve (APV) website (click here) for an extensive list of APV quality points of difference.
We are unique in stocking not just valves but the full range of associated pipeline products like studs, gaskets, strainers, fittings, flanges etc to provide total turn-key supply from one point.  With our central stock holding you don't have to wait weeks for us to marshal products from various interstate branches or sub suppliers. For project orders, customers can inspect all items together in one consignment.  Single source supply brings clear benefits: there is only one purchase order, one inspection cost and one shipping cost.  We consolidate projects and simplify the process.  To enable quick delivery we often combine stock with rush air freight shipments from local and overseas stockists or short lead time factories in order to meet urgent project requirements.  Major projects are a big part of Global Supply Line's business.  As well as our main facility we also operate another two premises in the Salisbury Plain area, one of which is used exclusively for laying out, inspecting and sorting large projects.
GSL's policy has been to continuously increase stock levels.  This has proved advantageous, drawing in new clients who have been unable to source valves elsewhere.  GSL listens to what customers want whilst also working with manufacturers to continually upgrade the specifications of our stock holdings. We constantly review all new and upgraded products manufactured and, if there is a market need we will stock it, particularly if it is a niche' product.
Within the higher quality arena, GSL has the most efficient and competitive supply procurement chain in the business. We understand valves and we know the strengths and weaknesses of all 'levels' of manufacturers. We will work with your risk management department to explain when, where and why a price variance is justified for a higher specification of valve.