VALVE ACTUATION
ACTUATED VALVE SERVICES
Global Supply Line (GSL) has been operating as a primary supplier of actuated valve packages for over 20 years, establishing itself as a leader in providing quality products and premium service levels in quick delivery. Now stocking Actreg, Bettis and Biffi (Emerson) scotch yoke actuators to 33,000NM!
As a major stockist of valves and actuators, Global Supply Line are an independent specialised 'one stop shop' for the provision of
valve/actuator supply.
Global Supply Line engineers can size the valve you require, then our automation facility can fit actuators and accessories and undertake torque testing and hydrostatic and pneumatic testing all in-house.
We can provide your choice of actuator brand or our range of ex-stock brands. Global Supply Line manufacture and stock mounting kits & drive adaptors as well as declutchable gearboxes. GSL design and supply failsafe systems, control panels etc. We perform all fitting, instrumentation
and testing.
After assembly each actuated valve is subjected to: function/ stroke test, travel stops are adjusted, open & close speed timing is verified, testing of solenoid valve to ensure functionality, and finally a limit switch check for position accuracy leak test of instrumentation and piping.
Our own large stocks combined with our stockist & short delivery manufacturing supply base enables us to provide all requirements from standard on-off valves to bespoke valve/actuator packages. We can provide tailored procurement solutions ranging from one-off's to large scale projects. Our independence and knowledge of the market allows us to advise and source the most suitable package based on commercial, delivery & technical considerations.

We stock Biffi (Emerson), Bettis and Actreg scotch yoke pneumatic actuators up to 30,000 NM. Our Adelaide engineering facility is approved to supply, fit and test Biffi, Bettis and Actreg.

ACTUATOR SELECTION PROCESS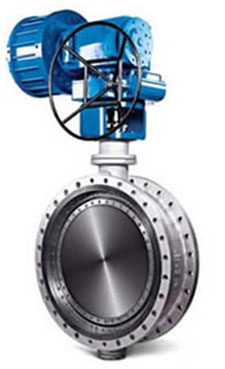 The selection of the most suitable actuator is determined by the duty cycle of the valve and the available power source. Global Supply Line engineers will select and size the actuator based on the required torque and safety factor. The safety factor will increase for shutdown valves and infrequently operated valves as well as for valves used in service with
particulates in the media.
Temperature, seat type and numerous other factors are also analysed and entered into actuator sizing software. We will analyse process fluid type, required operating speed, fail safe requirements, area classification, temperature and environment. Finally we will discuss with you ease of field use, maintenance, brand options, gear over-rides, positioners, solenoids etc. to come up with a valve actuation package that ensures the best balance of reliability, ease of maintenance and cost effectiveness. In-house torque testing capability provides assurance of correct sizing.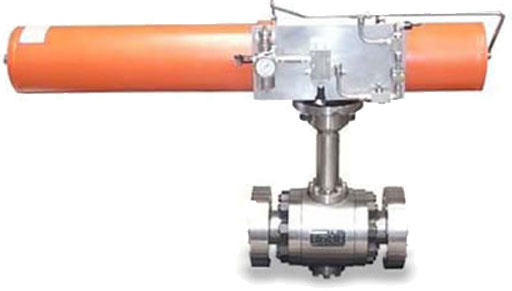 ACTUATION SELECTION CRITERIA
QUARTER TURN
PNEUMATIC
Pneumatic actuators are available in spring return and double acting in 90º and 180º operation. Pneumatic actuation is inherently safe, simple, maintenance free and cost effective. Furthermore pneumatic actuators are mass produced and there is ready availability of options such as:- spring packs for fail-safe systems, pneumatic or electro-pneumatic positioners for modulating control as well as control accessories such as limit switches for accurate process monitoring.
Actuated ball, plug and butterfly valves require maximum torque delivery at the breakaway point (break to open). This is especially important for safety shutdown ball valves which are infrequently operated resulting in increased torque requirements to break open the valve. Depending on the factors mentioned above in the "actuation selection process" section, the required safety factor can be over 100%.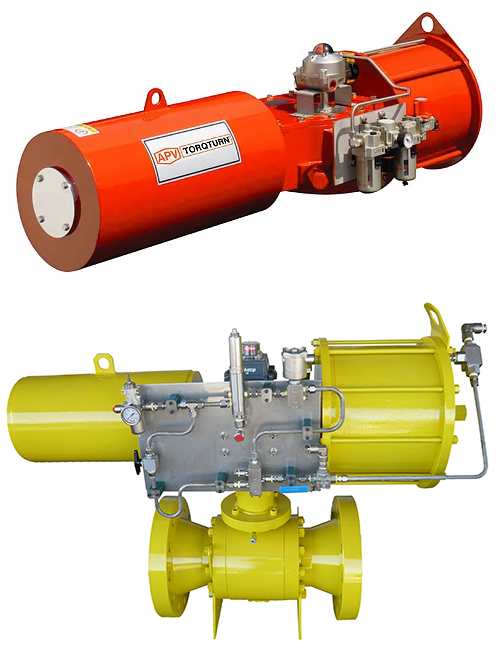 Scotch-yoke actuators are ideal as they use leverage to vary the relationship between the piston force and the drive point providing maximum torque at the beginning and the end of the 90º rotation which correlates with the torque curve need for most quarter turn valves like ball & high performance butterfly valves. Furthermore, being steel case and heavy duty design they are much more rugged, reliable and dependable for critical shutdown applications and are available in much larger torque ranges.
Through our own stocks as well as other Australian & overseas partner actuator and accessory suppliers, we can supply actuated valves in a quick turnaround.
Global Supply Line supplies and stocks both rack & pinion (Air Torque – Italy) and scotch yoke (APV-Torqturn, Actreg, Sferova and Air Torque) pneumatic and hydraulic actuators for quarter turn valve automation. If preferred we can also supply Bettis, Rotork or Biffi. We also stock a full range of Italian made 316SS ISO brackets and adaptors.
ELECTRIC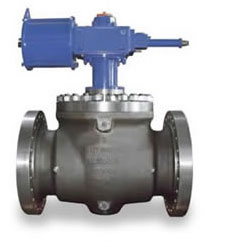 Electric actuators are compact and efficient and are used where air and hydraulic supply is not available. They are generally only for on-off service, not fail-safe service. Electric actuators are available in isolating, regulating and modulating and can be supplied in 3 phase as well as single-phase AC and DC.
HYDRAULIC
Hydraulic actuators are suited to operating 90º turn valves such as ball, plug and butterfly valves. Linear piston style is also available for gate and globe valves. Double-acting and fail-safe spring return styles are available, utilizing hydraulic oil up to 35,000 kPa.
Hydraulic actuators are generally used when very high torque is required to operate larger valves or where pneumatic or electric supply sources are not available. A major advantage (especially for off-shore rigs etc) is the size and weight of hydraulic actuators is much smaller.
MULTI-TURN
ELECTRIC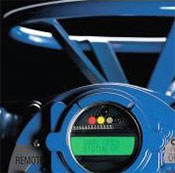 Motor-operated actuators are can be supplied and are intended for rising stem valves such as gate and globe valves for on and offshore applications.
Multi-turn electric actuators are specified by evaluating torque, stem size, stem thrust and stroking speed as well as voltage and frequency. The force required to operate the valve under specified service conditions in terms of torque and thrust is analyzed by using actuator manufacturers software.
Three phase motors are recommended for larger valve applications. Facilities for local, remote and manual over-ride operation are generally standard.
APPROVED AUTOMATION CENTRE
Global Supply Line Engineering are the officially Starline, Air Torque, Australian Pipeline Valve, Bettis, Biffi, Morrin, Torqturn, Diamond Gear, JC, Emerson Automation and Sferova Service & Automation Centre servicing Australia, New Zealand and Papua New Guinea.Click on logos above to view approval letters.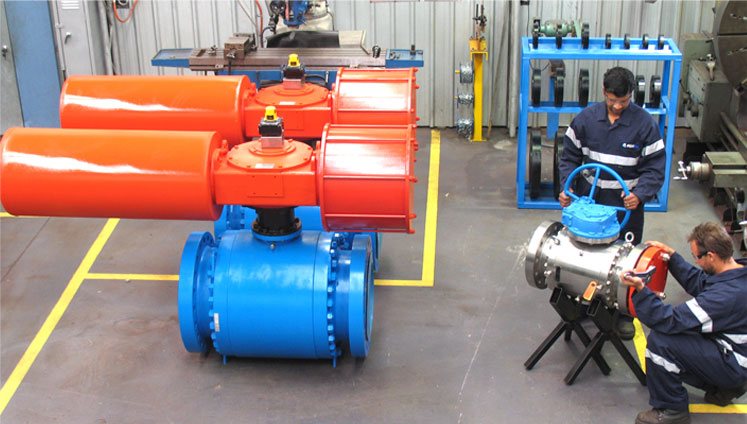 VALVE ACTUATION OPTIONS
ACTUATOR STYLE
QUARTER TURN PNEUMATIC SCOTCH-YOKE
QUARTER TURN PNEUMATIC RACK & PINION
QUARTER TURN HYDRAULIC
LINEAR HYDRAULIC
LINEAR PNEUMATIC
SUB-SEA PNEUMATIC
SUB-SEA HYDRAULIC
QUARTER TURN ELECTRIC
MULTI-TURN ELECTRIC
ELECTRO-HYDRAULIC
GAS OVER OIL
HIGH PRESSURE GAS
SELF CONTAINED POWER SOURCE
ELECTROTHERMAL SHUT-OFF
VALVE TYPE
BALL
BUTTERFLY
CONTROL
GATE
GLOBE
KNIFE GATE
PLUG
OPERATION
FAIL SAFE
REGULATING
MODULATING
ON/OFF
ELECTRIC ACTUATORS
Quarter turn
Multi-turn for linear operation
General service or explosion proof
On/Off or modulating control
Multi-voltage
Fail-safe electro-hydraulic
HYDRAULIC ACTUATORS
Hydraulic (water or oil)
Gas over oil
ACCESSORIES
Mounting brackets
ASCO Solenoid valves & limit switches
Multi-voltage: general purpose, intrinsically safe & explosion proof
Pneumatic & electro-pneumatic, analogue & digital positioners for quarter turn & linear operations
Breather blocks / closes loop piping
Speed controls
Visual beacon indicators
Filter/ pressure regulators
Block & vent valves
Air or hydraulic accumulator tanks
Gear over-rides
PNEUMATIC ACTUATORS
Quarter turn
Rack & Pinion and Scotch-yoke
Spring return (fail close or fail open)
Manual over-ride option
Double acting
ISO 5211 & NAMUR interface
Linear cylinder double acting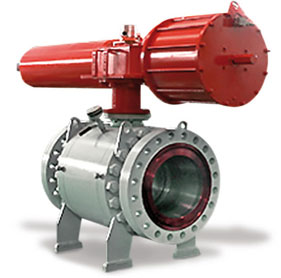 BRANDS AVAILABLE (IN STOCK-SEE STOCK LIST THIS SITE)
ACTUATORS
ACCESSORIES

Positioners
Transmitters
Deadman levers
Hand pump power packs
Worm gearboxes, ¼ turn
Declutchable ¼ turn gearboxes
Multi turn bevel gearboxes

Positioners
Monitors
Transmitters

ASCO Solenoids stockist and distributor
ASCO Position indicators
ASCO Pilot valves
Global Supply Line are ASCO
distributors & stockists

Solenoids
Filters
Regulators
Pilot valves

Valves
Filters
Tube fittings

Solenoid valves
Control valves

Valves
Tube compression fittings

Topworx™ Controllers & Limit Switch Boxes
Go™ Switches
Fuseable link fire shut off operators
Thermal fire shut-off spring packs
Deadman levers
Instrumentation valves
Instrument valves
Manifolds
Click here for Anderson Greenwood (AGCO) drawings & catalogues
Click on catalogue above & below to view.

*Bettis® is a registered trademark of Emerson Process Management and is not associated or affiliated with CVS Controls Ltd in any way.