QUALITY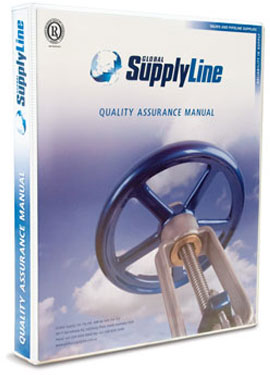 QUALITY PROFILE
Global Supply Line's main quality policy is to satisfy the needs and specified requirements of our clients.
To achieve this objective GSL has implemented and maintains an updated Quality Assurance System based on the AS/ISO 9001:2008 standard, which is documented in our Quality Manual. Global Supply Line's Quality Assurance Manager/Engineering Manager is an accredited Internal QMS Auditor. Also our Quality Consultant CPK Quality Assurance is permanently engaged in an ongoing contract and is a fully Accredited independent advisor.
Global Supply Line (GSL) management, aware of it's responsibility, ensures that our quality policy is understood, implemented and maintained at all levels of the organisation. As part of our ISO 9001 certified quality system program, GSL is focused on continual improvement of the company utilising fixed targets and goals, measuring improvements and analysing progress in relation to all facets of business operations as well as occupational health and safety issues.
Expertise and Scope of Service
Stockist and indentor of valves, flanges, fittings and related pipeline components. Our pre-vetted approved manufacturers provide assurance of quality which is further enhanced by our supply chain risk capability.
Client Base
Approved by and servicing all major participants in the oil, gas, mining and power generation sectors throughout Australia and most of the southern hemisphere.
Quality Assurance System
A documented QA system is in place, operating in accordance with AS/ISO 9001. A copy of our QA
manual is available on request. Quality Assurance Assessors: LRQA Business Assessors: LRQA,
Business Assurance (Lloyds). We also operate the 5S continuous improvement system which
is third party audited by Lloyds under our ISO 9001 management system.
Workers Compensation
Pursuant to Regulation 6.6.2(1) of the Occupational Health, Safety and Welfare Regulations 1995,
Global Supply Line employees are protected for workers compensation for work related injury
through Workcover Corporation and CGU Insurance.
Occupational Health & Safety
Global Supply Line operates in accordance with the Occupational Health & Safety Act and
specifically in accordance with AS 4801 (OHS AS 18001).
Insurance
$30 million public liability insurance – (QBE Insurance)
$30 million products liability insurance – (QBE Insurance) – Failure of products and damage
$10 million professional indemnity insurance – (QBE Insurance Ltd.)
Fraud and slander insurance – Loss of documents
Advice – Brecknock Insurance Brokers Pty. Ltd.
Certification
Certification is supplied in accordance with EN10204.3.1 (DIN 50049.3.1) on all products supplied.
The following is a QA summary on additional types of certification available:
Global Supply Line.
The trusted
name in valves.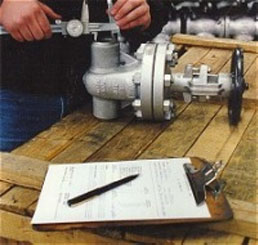 QA REQUIREMENTS COVERED
Fully guaranteed with warranty and full factory material and test certification
Product liability insurance
Applicable quality assurance
Applicable manufacturers data sheets
In compliance with required standards and approvals
AVAILABLE NDT
TEST DESCRIPTION
APPLICABLE STANDARDS
EXTENT OF TEST
Dye Penetrant
ASME V – Art. 6 and 24
ASTM E165
ANSI B16.34 – Annex D
10% on pressure containing parts for non magnetic materials (100% upon customer request)
Magnetic particle
(dry and wet)
ASME V – Art. 7 and 22
ASTM E709
ANSI B16.34 – Annex C
10% on pressure containing parts for magnetic materials (100% upon customer request)
X and Gamma Ray
ASME – V – Art. 2 and 22
ASME VIII – Div 1
ANSI B16.34 – Annex B
ASTM E142-E94 -E446-E186-E280
Upon customer request
Ultrasonic
ASME V – Art. 4 and 23
ASME VIII – Div 1
ASTM A388
Hydrostatic and
pneumatic
API 6D, API607 and API 6A
BS 5146 and 6755
MSS-SP61 or to customer specs
Stem torque
Visual and dimensional
API 6D and to customer requirements
Applicable ASTM Standards
MSS-SP 44 and SP55
ANSI B16.34, B16.50, B16.10
API 6D and 6A, BS 2080
100%
Alloy verification
Hardness
High pressure gas tests
Texas analyser 9266
Nace MR01-75
customer specifications
100% of wetted components
QUALITY CONTROL ON PROJECTS PROFILE
GLOBAL SOURCING
GLOBAL SUPPLY
A. EXPEDITING AND SERVICES
Global Supply Line specialises in providing full service packs on your orders.
The following services are available: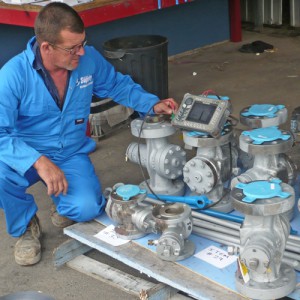 expediting activities
inspections at sub-contracting units
final testing witness inspections
certification review
B. INSPECTION AND TESTING ACTIVITIES
Thanks to the experience gathered during many years of activity in the supply of products to major Australian and off-shore companies,
(click here for general final inspection procedure) Global Supply Line can provide professional competence in the management of a third party survey, review and witness of any required non-destructive tests in Adelaide or ex overseas factory, such as:
X-Rays
Ultrasonic Tests
Magnetic Particle Inspection
Positive Material Identification (in-house facilities)
Quality Control Approved Dye Penetrant Liquid Inspection (in-house facilities)
As well as the following product tests:
pressure tests – pneumatic (in-house facilities)
pressure tests – hydraulic (in-house facilities)
pressure tests – gas high pressure tests (in-house facilities)
helium fugitive emission tests
Also functional tests for special applications:
low temperature tests
cryogenic tests
fugitive emission tests
functional test on actuated equipment (in-house facilities)
torque testing (in-house facilities)
The above activities usually require the use of special tools, equipment and qualified personnel normally provided by the manufacturer or by external qualified laboratories.
Upon request Global Supply Line can employ the services of independent and qualified institutes and laboratories to perform the inspection activities "on-site" or in neutral facilities. These survey and surveillance activities depend on collaboration with the manufacturer of the products to be supplied to Global Supply Line.
C. PROJECT INSPECTION ACTIVITIES
For any of your orders, Global Supply Line can perform or arrange, with strict attention to detail, the following activities. All activities are kept under full control of professional, specialist staff.
| ACTIVITY | STANDARD | UPON REQUEST |
| --- | --- | --- |
| Preliminary check to verify that the supplier has put in production the order according to the client's specifications, rules and parameters | passed | |
| Follow up and expedite visits (on major projects) to verify that production is underway and the suppliers comply with contractual delivery dates. | passed | |
| Final review, or witnessing of inspection activities to confirm the final supply stages. | | passed |
| Certification review | passed | |
| Witnessed inspection during NDT, performed by independent authorised laboratories (UL, MPI, PMI, DPI, X-ray tests) | | passed |
| Witnessed inspection during special product/ equipment testing (low pressure tests, helium tests, fugitive emission tests) | | passed |
| Dimensional checks | passed | |
| Painting inspection | passed | |
| Packing inspection | passed | |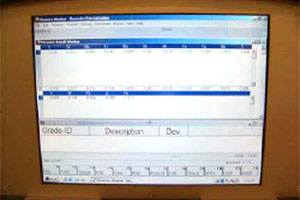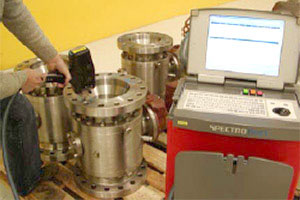 When required, all the above activities are recorded by Global Supply Line and duly reported to its clients with written and photographic reports.
The above services, usually agreed upon at the time of order, ensures the client that the quality of the product is assured at a fixed price, preventing delays in delivery that may be caused by late detection of any non-conformity. Global Supply Line selects its suppliers based on quality, liability and servicing.
PMI TESTING
Complete original factory test reports are supplied for all products in accordance with DIN EN10204.3.1 (50049.3.1). All material test reports are permanently maintained and always available through our MTR software. In addition to standard material testing performed at the manufacturing level, we maintain an advanced X-ray analyser providing the in-house ability to issue certificates of chemistry which increases customer confidence and allows for a high level of quality control.
Global Supply line offer positive material identification if required for a small surcharge and with no delay. We have non destructive metallurgical X-ray testing capability for the following chemical elements : A105, WCB, LCB, LF2, LCC, WCC, CF8, CF8M, F51, F53, A20 and Monel.
All product is supplied with factory 50049 3.1 certificate, however should you require additional assurance that the body, bonnet, wedge/disc/ball and stem meets the required material specifications, in-house PMI testing can be done using the latest Bruker (S1 Sorter) testing device.