VALVE ENGINEERING & TESTING FACILITY
Global Supply Line Engineering
70-78 Stanbel Road
Salisbury Plain SA 5109
Phone:

(08) 8285 0000

Fax:

(08) 8285 0022
MACHINING, MODIFICATIONS, AUTOMATION & RETRO-FITTING
Our supply resource is enhanced by our in-house machining and testing facility allowing us to provide valve upgrades. Global Supply Line Engineering can perform all types of modifications and options in our fully equipped facility. Modifications include valve end conversion, operator retro-fit modification etc. Our qualified engineers are capable of attending to all your needs.
We can perform quick production or "rush" modifications and retrofitting of standard valves, such as upgrading to low temperature bonnet, special seats, modifying end connections, changing packing materials or assembling and mounting actuators. Modifications include all required testing. We also have a fully equipped valve automation centre and valve testing shop. A large variety of flanged valves are available ex stock in "undrilled". Furthermore we stock valves with blind face flanges and extra heavy buttweld end valves to enable us to provide any type of flange face finish and schedule of weld end. In conjunction with our in-house engineering division, special face-to-face dimensions, end connection types and flange drillings can be supplied enabling us to offer direct equivalents to any valve including many brands that are no longer available.
We ensure that all work is performed on time and to your requirements. Our in-house facilities ensure fast delivery which our competitors can't match. As part of our total valve management concept we also offer to manage and out-source your valve engineering and valve re-engineering requirements.
EXOTIC SPECIALTY VALVE MANUFACTURE

We custom fast track manufacture valves in Australian Pipeline Valve brand from A105, LF2, 316, 316L, 410 and F51 as well as exotic grades like Monel, Super Duplex, Titanium, Alloy 20, etc. We can also reverse engineer rare replacement valves.
TESTING
We also provide a comprehensive range of in-house testing services including:
Hydrostatic & gas pressure testing (up to 100 Bar/15,000 PSIG) to standards including API598, API6D, ISO 5808
Valve & actuator assembly performance and torque testing
Non-destructive testing Ultrasonic/X-ray, PMI, MPI, DPE
Submerged Nitrogen test tank and dedicated test benches with data logger interface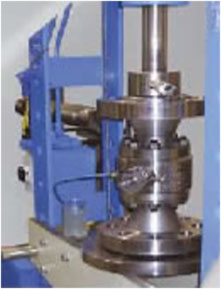 After any work is performed valves are retested to relevant standards such as API6D, API598 and are inspected to MSS-SP55. We can additionally arrange any witness testing along with any other special testing that our customers may require.
PAINTING
Painting services available incorporating any and all painting specifications as specified by the client
Topside & Subsea painting specs
Tagging and Labeling
Degreasing and Oxygen Cleaning Services
MODIFICATIONS PERFORMED
Global Supply Line can supply valves configured to any specification such as:
Actuation & controls
By passes
Trim changes
Block & Bleed conversions
Counter weight & lever
SDNR conversions
Gear operators fitted (we hold a large range in stock)
Limit switches
Locking devices, counterweights
Jacketed valves
Extended bonnet modifications for low temperature (Starline bonnets ex stock)
Electroless Nickel plating of body and internals
Linings:- halar, hard rubber, PTFE, ceramic, polypropylene, glass, EPTFE etc.
Stem extensions for buried service
Weld end modifications:- machining to buttweld, socket weld, pup ends etc.
Custom end to end dimensions
By-pass & bleed conversions
Changing stem packing, seals etc.
Machining to Grayloc™ ends (machine under license)
Oxygen service cleaning
Conversions of seats to PEEK, bronze filled PTFE, carbon/graphite PTFE, Graphite (full range of seats and seals kept ex stock)
Retrofitting of mesh to strainers from 5 micron to 5mm aperture
Spring return (deadman) Levers – fail closed
Conversions from RTJ to RF and vice versa
Special drilling of flanges to AS, BS, JIS, DIN, ASME
Fusible link ESD Fire shutdown Levers – fail closed when burnt
Fusible link ESD Fire shutdown Actuators – Fail open or closed when heated
PIPELINE SPECIALTY PRODUCTS – MANUFACTURE
Global Supply Line Engineering also manufactures the following specialty items in short delivery:
Orifice flanges & plates
Spectacle blinds and spades
Barred tees
ASMI & API Flanges
In addition, Global Supply Line can supply the S-Line brand of shop fabricated products such as:
We also manufacture flanges and stock machined forgings in A105/LF2/316/F51 and 4130/410 allowing us to fast track manufacture ANSI and API flanges, components and adaptors.

workshop equipment
Fully equipped valve automation centre
Fully equipped hydrostatic & pneumatic test facility
Full in house paint & blast shop
100 tonne 10,000 psi pressure test machine
Submerged Nitrogen Test Tank
SZME YFB-D600 380 VAC 3 Ph Electro hydraulic 300 DN – 600 DN horizontal valve hydrostatic test bench 5000 PSIG rated 4000 mm face to face length
Dory JWZ-300 380 VAC 3 Ph electro hydraulic 15 DN – 300 DN horizontal valve hydrostatic test bench 7500 PSI rated, 1500 mm face to face
Mazak CNC vertical machining centre
Microcut Challenger CNC flat bed lathe
Tuda face lathe 1.6m swing – 1900mm between centres
Buffalo CNC lathe 8 heads BNC 2660 1600mm between corners
Herless lathe 860mm swing 2000mm between centres
Vertical Borer TSO W100 3400mm 750mm face plate
Mazak lathe 1400mm swing 2700mm between centres
Mudigs radial arm drill 900mm range, multispeed
Anayak milling machine
Welder – Origmig 400amp welder
Sawing Machine
Slotting machine (Stanto) 500mm stroke
Beaver 2 – thread cutting machine
Valve Torque tester VTT-160 Torque range 2,000NM – 16, 000NM
Valve Torque tester VTT-600 Torque range 10,000NM – 60, 000NM
Actuator Torque tester ATT-160 Torque range 2,000NM – 16,000NM
Actuator Torque tester ATT-600 Torque range 10,000NM – 60,000NM
John Heine Bending Machine
Plasma cutter – Cutmaster 50mm
Profax welding turntable 600mm
Nitrogen Test Unit
Hydration 10,00 psi HP Gas and Hydrostatic test unit
Crystal XP2 Digital test Gauges and data loggers
NCSK automatic pneumatic metallic label printer
Full in-house Sand blasting facilities & paint shop
1 x 3 tonne, 3 x 1 tonne overhead cranes
4 forklifts up to 4.5 tonne
High pressure high speed valve grease pump
Degreasing bath
Computerised label printer
3D scanner and CAD modelling
Full set of test plugs, flanges and stoppers
Yantai Sand Blast Machine – 6x4m, self recovery system, 1tonne feed hopper, full dust extraction system, shot blasting & garnet, 2000L air tank, rotary screw compressor, fully computerised, certified & environmentally friendly
Yantai spray booth – 6x4m temperature controlled, includes baking oven, fully automatic, computerised , certified & environmentally friendly
380 VAC 3 Ph Hydraulic power pack and control panel with data recorder