HEAVY DUTY ACTUATORS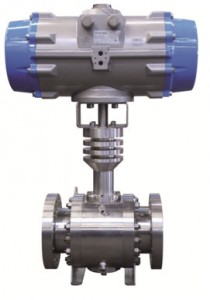 AT801 Spring Return
AT801 & AT1001 HEAVY DUTY COMPACT ACTUATORS For clients who require a rugged high torque range long life reliable actuator, the AT801 and AT1001 are ideal. Global Supply Line keeps stocks of AT Series up to AT1001 as well as spare springs & seal kits. These actuators are used by all industries including major oil & gas companies who normally use a cylindrical scotch yoke style actuator. Due to the heavy construction of these larger AT series actuators they meet and surpass the requirements of the downstream oil and gas industry whilst also offering the other advantages associated with compact actuators. AT Series actuators are SIL 3 certified and Atex Ex certified for explosive atmospheres.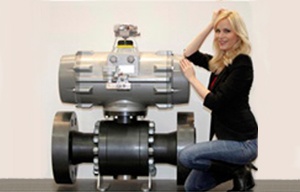 These actuators are rated up to a torque range 7000 Nm in spring return and 11,000 Nm in double acting. The body of the larger model AT 801 and 1001 actuators is constructed from solid heavy wall cast anodised aluminium not extruded. The AT1001 end caps are heavy cast aluminium, the AT801 end caps are heavy extruded aluminium.
The body is anodised and then further protected with epoxy and finished with a PTFE or polyurethane coating. The end caps are also anodised then polyester or PTFE coated. The main drive shaft is carbon steel + ENP (AT801) or stainless steel + ENP (AT1001). The AT801 is also optionally available with a stainless steel + ENP shaft. These larger compact heavy duty AT Series actuators offer advantages over cylindrical style scotch yoke actuators for downstream oil & gas and petrochemical installations as they are lighter, shorter and have a centralised weight distribution.
This reduces the potential risk of valve stem damage caused over time by uneven stem load. Furthermore, being solid aluminium, these rugged actuators are inherently anti-corrosive and lend themselves to numerous service applications. The materials of construction are superior to conventional painted steel cylindrical scotch yoke style actuators. Even the spring cartridge system is corrosion protected. In addition of course, there can be a price advantage as well as shorter delivery time compared to other major cylindrical piston type actuator manufacturers.
Further savings are realised in packing and freight costs. In addition, due to the flexible spring system, these rack and pinion actuators allow an optimum spring to close versus air to open ratio, which is advantageous for trunnion and floating ball valves. Full certification to EN10204-3.1 can be supplied. All components are 100% Western EC manufactured.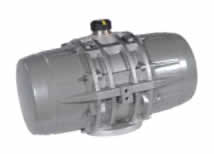 AT1001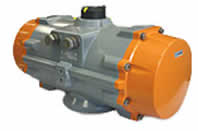 AT801
316SS 'S' SERIES
For smaller sizes (200 to 2000 Nm) another solution for oil & gas customers in the compact range of actuators is Air Torque's full 316 'S Series' stainless steel forged actuator. In larger sizes the 'S Series' are a piston style design (AT454 to AT654) and are ideal for offshore use and any corrosive environment application. Being full forged marine grade 316 stainless steel the 'S Series' is heavy duty and suitable for rugged chemical, petrochemical and oil & gas applications. Compared to conventional scotch yoke style actuators, the 'S Series' are more compact and also lighter in weight. This reduces the potential risk of valve stem damage caused over time by uneven stem load especially when actuator-mounting adaptors are not perfectly centralised. Like all Airtorque actuators, the 'S series' are available fully certified to EN10204- 3.1 and are 100% Italian manufactured with full traceability.
Air Torque AT and PT series actuators in light alloy and stainless steel construction Atex EX certified for explosive atmosphere.  Click here for Atex EX explosive atmosphere certification. Global Supply Line keeps large stocks of 316 'S' Series. Click here for our stock list.